Introducing Verizon Small Business Digital Ready – a FREE customized learning program designed to give small businesses like yours more tools to succeed in today's digital world.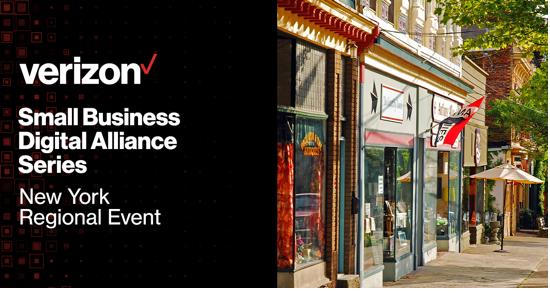 Verizon
COVID, Digital Presence
Small businesses need a range of support as they adapt to an increasingly digital economy, often including basic digital literacy, understanding of digital tools, and resources to help them implement practices related to digital marketing, online presence, operational efficiencies, online financing, etc. Programming includes: The Importance of Small Businesses to the Economy and Society with…
Read More
Inside Verizon Small Business Digital Ready, you'll find digital tools including…
PRACTICAL CONTENT:
Short, information-packed lessons presented by small business owners like you to give you strategies you can use right away across digital marketing, operational efficiency, and accessing capital.
COACHING SESSIONS:
Hands on working sessions with experts to help you build financial projections, create social media templates, optimize your website, develop a competitive analysis and more.
ASK THE EXPERT EVENTS:​
Get guidance from business experts across legal, marketing, business planning and more. They will help you to apply what you know and what you're learning to execute your plan of action.
PEER NETWORKING:​
Connect with other small businesses and build your network! Share advice, industry information or connect on future business opportunities—it's up to you.